General Statistics
I. FDI FLOWS ACCORDING TO THE CENTRAL RESERVE BANK OF PERU
The Central Reserve Bank of Peru (BCRP) reported a flow of US$ 6 861 million of foreign direct investment for 2015, lower by US$ 1 024 million to the amount obtained in 2014, mainly due to a scenario of low international prices (affecting the reinvestment of profits, principally in mining companies) and slow recovery of domestic demand.
Foreign Direct Investment Flows
Central Reserve Bank of Peru
(US$ million)
* Forecast - Inflation Report, December 2015
Source: BCRP
Prepared by ProInversión
 II. RECORD OF CAPITAL CONTRIBUTION
Foreign investment figures presented below are based on registration statements submitted by companies/investors to PROINVERSION pursuant to Legislative Decree No. 662 (Article 19). While the Decree establishes the mandatory registration of foreign investment, it does not establish a fixed deadline or penalty for those who fail to comply with such records.
The difference between the figures reported by the BCRP and those recorded by PROINVERSION can be explained by the following reasons: the BCRP prepares its foreign direct investment statistics considering, in addition to capital contributios and share capital purchases (share transfer between residents and nonresidents), reinvestment of profits (difference between profit generated and dividens paid to foreign investors in the same period) and net lending to the parent company (received minus paid loans) between the investor and its affiliate.
As of December 31, 2015, the foreign investment stock as capital contributions amounted to US$ 24,230 million.
Foreign Direct Investment Stock as Capital Contribution
(US$ million)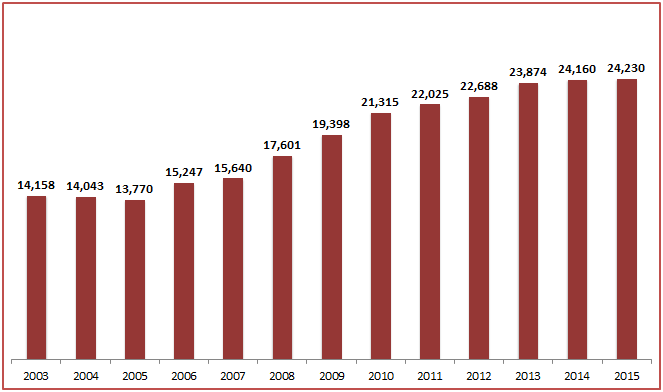 Source: Proinversión
Prepared by ProInversión 
Spain, the United Kingdom and the United States are the main sources of capital contributions to Peru, which account for 50% of the stock in December 2015, while the top 10 countries account for 85% of the accumulated stock.
Foreign Direct Investment Stock by Country of Origin
December 2015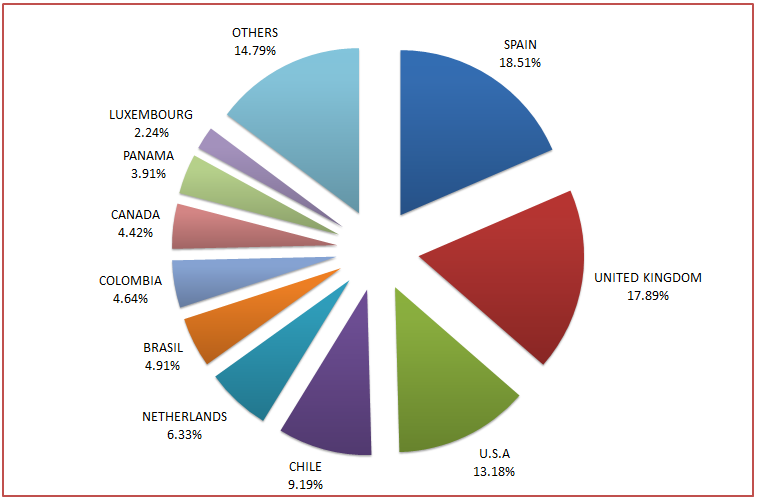 Source: ProInversión  
Prepared by ProInversión
Regarding the distribution of contributions by sector of destination, 86% concentrated in mining, finance, communications, industry and energy sectors.
Foreign Direct Investment Stock by Economic Sector December 2015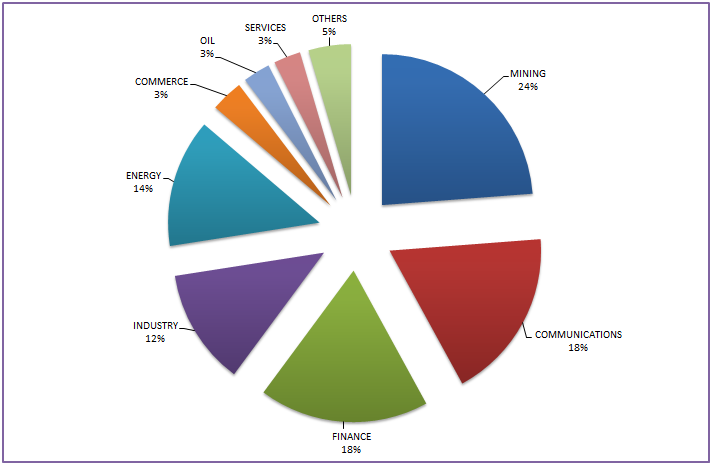 Source: ProInversión 
Prepared by ProInversión
III. MAIN INVESTORS
The main investors that made capital movements, through contributions or share purchases between 2010 - 2015 periods are the following:
| INVESTOR | COUNTRY | SECTOR |
| --- | --- | --- |
| EMPRESA NACIONAL DE TELECOMUNICACIONES  S.A. | CHILE | COMMUNICATION |
| TELEFONICA LATINOAMERICA HOLDING, S.L. | SPAIN | COMMUNICATION |
| VOTORANTIM METAIS LTDA. | BRAZIL | MINING |
| CYPRUS CLIMAX METALS COMPANY | U.S.A. | MINING |
| THE BANK OF NOVA SCOTIA | CANADA | FINANCE |
| PERU COPPER SYNDICATE LTD. | UNITED KINGDOM | MINING |
| ODEBRECHT LATIN FINANCE S.A.R.L. | LUXEMBOURG | ENERGY |
| SN POWER HOLDING PERU PTE LTD | SINGAPORE | ENERGY |
| IC POWER HOLDINGS (KALLPA) LIMITED | BERMUDA ISLAND | ENERGY |
| HUDBAY PERU INC. | CANADA | MINING |
| ANGLO QUELLAVECO SARL | LUXEMBOURG | MINING |