What are Works for Taxes?
Law N° 29230, called "Works for Taxes Law", is a public investment form that involves the participation of private companies promoting the rapid and efficient execution of projects advancing development and improving the quality of life for more Peruvians.
Accelerate the execution of Investment Projects, sustaining or increasing the dynamics of our economy.
Simplify procedures, increasing the efficiency of Public Entities.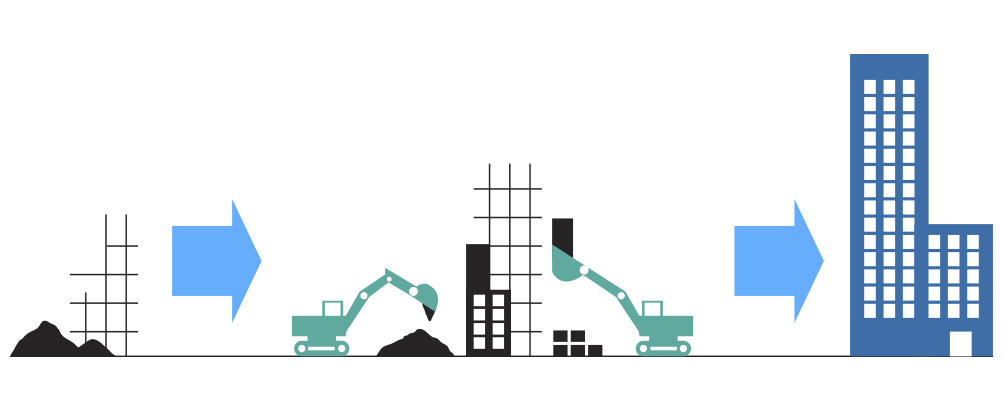 Public Entity (*)
RG, LG and UP pay interest-free financing from their levies, excess royalties, royalties, customs revenues and contributions; and the GN from their regular resources..
Private Company
Performs projects prioritized by Public Entities, thus directing the payment of its Income Tax
---
This new special contracting scheme allows the alliance between the public sector and the private sector, allowing to perform quality works for the benefit of the population. The main benefits for the identified stakeholders are specified below:

For public entities (*)
Accelerates the execution of projects with high social impact.
Accelerates the execution of projects with efficient quality, reducing the infrastructure gap.
Releases technical and financial resources for the execution of other projects demanded by the population.
For subnational governments, increases their current investment budget
(*) Regional Government (GR, for its acronym in Spanish), Local Government (GL, for its acronym in Spanish), Public University (UP, for its acronym in Spanish), or entity of the National Government (GN, for its acronym in Spanish) regarding Health, Education, Tourism, Public Order and Security, Agriculture and Irrigation, Sanitation, Culture, Environment, Sports, Fishing, Urban Development, Rural Electrification, Social Development, Social Protection, Transport, Communications and Justice. Social Development, Social Protection, Transport, Communications and Justice.

For private companies
Improves community relations.
Improves their image and social responsibility programs.
Directs the payment of their Income Tax.

For society
Broadens coverage and quality of public services.
Generates direct and indirect employment.
Improves the quality of life and well-being of the population.
Promotes the execution of quality projects in less time, guaranteed by the incentives of the financing company
Section 17 of Law No. 30264, as amended (Legislative Decrees No. 1238 and No. 1250) empowers National Government Entities, within the framework of their competences, to execute public investment projects regarding health, education, tourism, agriculture and irrigation, public order and security, culture, sanitation, rural electrification, fishing, sports, environment, urban development, social protection, social development, transport, communications and justice, including their maintenance, within the framework of Law No. 29230.