PERU ANNOUNCES PUBLIC TENDER OF TWO ELECTRICAL PROJECTS IN THE NORTH OF THE COUNTRY THROUGH PPP
NEWS
PERU ANNOUNCES PUBLIC TENDER OF TWO ELECTRICAL PROJECTS IN THE NORTH OF THE COUNTRY THROUGH PPP
October 11, 2021. Lima, Peru.- The Peruvian Government, through The Private Investment Promotion Agency (PROINVERSIÓN), announces the call for tendering the concession of the projects "220 kV Reque - Nueva Carhuaquero Connection, Expansions, and Associated Substations Project" and "220/60 kV Nueva Tumbes SE - 75 MVA and 60 kV LT Nueva Tumbes - Tumbes" to attract potential national and international investors.
The Bidding Documents, which contain the conditions and requirements to participate and the activities schedule, and the Contracts' Initial Versions for both projects are available on PROINVERSIÓN's institutional website (www.investinperu.pe).
The tender includes the design, financing, construction, operation, and maintenance of both projects under the Self-financed Public-Private Partnership (PPP) modality. The projects they will be granted to the lowest Total Service Cost bid, following the provisions of the Bidding Documents. The concession term for both projects is 30 years since the start of the commercial operation, and they will be awarded in the second quarter of 2022.
The estimated investment in "220 kV Reque - Nueva Carhuaquero Link" is US$ 29.8 million (without VAT) and includes the expansion of the transmission capacity between Chiclayo and Cajamarca. This project will provide electricity to the country's northern area (mainly Chiclayo and Lambayeque provinces) and adequately interconnect Peru and Ecuador.
"Nueva Tumbes Substation - 60 kV Nueva Tumbes – Tumbes Transmission Line" will require an investment of US$ 7.9 million (without VAT). This project is expected to increase by 58% the transformation capacity to serve Tumbes electrical system by installing an additional supply point.  Hence, it will avoid overloading Zorritos Electrical Substation starting in 2022 and cover the electricity demand for the next 15 years.
Both projects are part of the Peruvian Government strategy to support economic growth with a reliable and continuous electrical energy supply. Additionally, in May, the Ministry of Energy and Mining (MINEM) entrusted PROINVERSIÓN eight (8) projects for roughly US$ 900 from its Transmission Plan 2021-2030, approved by Ministerial Resolution Nº 422-2020-MINEM/DM (see table below).
These investments will allow increasing the reliability and capacity of the electricity system, mainly in northern Peru, one of the most economically dynamic regions in recent years.
Binding Projects of the Transmission Plan 2021-2030 entrusted to PROINVERSIÓN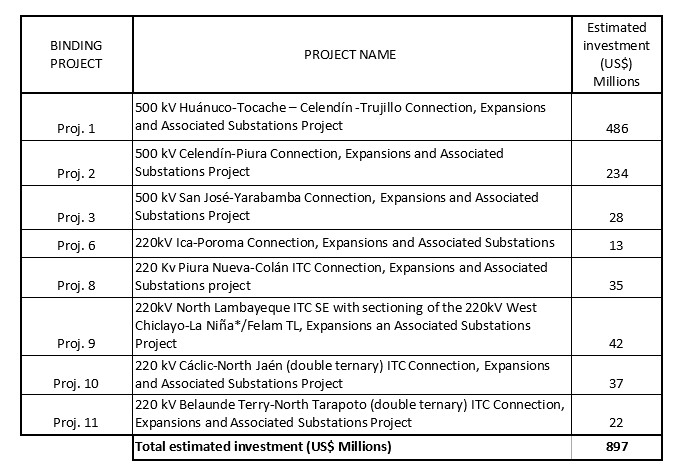 Source: MINEM
Source: Press Release - PROINVERSIÓN